Notable Beresfords
Below we spotlight a few of the interesting Beresfords in past and recent history.
Flt.Lt Hugh R.A. Beresford. RAF
Hugh, aged 24, was the 'A' Flight commander of 257 Squadron, which was in action almost daily during the critical Battle of Britain, on which the fate of the country depended in the summer of 1940.
On the 18th August he had already been up with his squadron three times and at 1653 hrs their Hurricane fighters took off again from RAF Martlesham and vectored on to a large enemy formation with fighter escort approaching up the Thames Estuary intent on sustaining the continuous bombing of London. Hugh was heard to issue a frantic warning to the squadron about the attacking fighters, stating that he could not attack as another Hurricane was in his line of fire. Then silence.
None of the squadron saw what had happened to him, but a River Board worker inspecting the water ditches which criss-crossed the flat Isle of Sheppey, was watching the dog-fight developing above in a crescendo of engine noise and rattling of machine guns. He saw a lone Hurricane break away and dive vertically into the soft estuary ground. There was no fire or explosion. No time could be spent during the weeks of the Battle of Britain to mount salvage operations and as the aircraft was deeply buried it was eventually forgotten.
39 years later later, in August 1979, there was renewed interest by some enthusiasts in locating and excavating the wrecks of wartime planes. Hugh Beresford's Hurricane was discovered and on September 29th the entire wreckage was recovered and filmed for a BBC TV programme. The unfortunate pilot was found still in his aircraft. He was laid to rest with full military honours in Brookwood Military Cemetery, Surrey, with the Band of the RAF and the Queen's Colour Squadron providing the honours.
Field Marshal Viscount Beresford
William Carr Beresford was one of the greatest Generals in the Napoleonic Wars. He received his baton as a Marshal when organising the Portuguese Army as a full fighting force ready to take its place amongst the greatest armies in Europe at that time.
After serving in the heat of the Egyptian desert at Alexandria, he crossed the Atlantic in 1807 with an army of 1,000 and took Buenos Aires, the capital of Argentina. He was subsequently captured himself, but six months later managed to escape.
At the Battle of Albuera, which took place on 16th May 1811, an allied army of some 35,000 British, Spanish and Portuguese troops under the command of Marshal William Carr Beresford defeated a French Army headed by Marshal Soult, one of the ablest of Napoleon's Generals.
After retiring from the Army, Marshal Beresford bought the 2,300 acre estate of Bedgebury Park, near Goudhurst in Kent, with its magnificent House and arboretum. Details of the impact he and his family had on the parish of Goudhurst are described in fascinating detail in 'The Beresfords of Bedgebury' by Gordon Batchelor. See Online Store.
Admiral Lord Charles Beresford
Charles William de la Poer Beresford, 1st Baron Beresford, GCB GCVO (1846-1919) was a British Admiral and a Member of Parliament. He was the second son of John Beresford, 4th Marquess of Waterford.
He joined the Royal Navy at the age of 13 as a cadet and became a Lieutenant in1874. He became aide-de-camp to the Prince of Wales and was later captain of HMS Condor. He became a popular hero at the bombardment of Alexandria during the Egyptian war of 1882, where he took his ship in close to the defending forts and engaged them with conspicuous gallantry.
In 1882 Lord Charles led the naval bridgade on General Wolseley's attempt to rescue General Gordon from Khartoum. He navigated boats over cataracts of the Nile, and transported them overland, but the relief force still arrived too late to save Gordon. Nevertheless, Lord Charles became a public hero and was awarded the C.B. for his efforts.
He was promoted to Admiral and appointed Commander-in-Chief of the Channel Fleet in 1903 and was in command of the Mediterranean Fleet from 1905-07. He served as a Member of Parliament representing County Waterford and later the constituencies of Marylebone East, York, Woolwich and Portsmouth.
Charles Cotton
The English writer, angler and friend of Izaak Walton was born in 1630 at Beresford Hall. In 1658 his father, who had married Olive the grand-daughter of Edward Beresford (the last Lord of the Manor in the senior branch) died and left him the considerable estates at Beresford and Bentley.
Charles Cotton, the younger, was educated partly at Oxford and partly at Cambridge. He grew up as a country gentleman and became a popular squire and poet. He spent much time fly fishing with Izaak Walton and together they built a fishing temple in a bend in the river Dove, just below the Beresford Tower. He contributed to the celebrated second part of Walton's 5th edition of 'The Compleat Angler', which was the first detailed reference book on fly-fishing.
Financial difficulties in his later years forced him to sell Beresford Hall in 1681. Beresford Hall was purchased by John Beresford, then Head of the Beresford Family.
Charles Cotton is buried in St James's Church, Piccadilly, London.
Godfrey Beresford
Within the sanctuary of Crich church in Derbyshire, next to the high altar stands the alabaster tomb of Godfrey Beresford. The inscription in Latin reads 'Here lies Godfrey Beresford,gentleman, recently part of the household of George the very honourable Earl of Shrewsbury and also son and heir apparent of Aden Beresford of Fenny Bentley who died on the 29th day of the month of November in the year of Our Lord One thousand Five Hundred and Thirteen' .
The stone is so old that its memorial is almost worn smooth, but the coat of arms depicted bear the arms of Beresford and Hassall quartered. His father, Aden, was the eldest of the sixteen sons of Thomas and his wife Agnes Hassall.
The tomb is surprisingly short in length and after allowing for the fact that people in those days were smaller in stature than today, it could be that Godfrey died whilst still a young man.
Godfrey is also shown wearing some plate armour, which suggests that he accompanied the Earl of Shrewsbury on his military campaigns. But a mystery remains. Why was he buried at Crich and not in his home parish of Fenny Bentley? Was he wounded in some battle and died there on his journey home? Was this special tomb, sited in an honoured place beside the high altar, erected by a grateful Earl to one of his closest staff?
Canon James Beresford - Education
One of the attributes of early members of our family was the encouragement of learning, however one family member who did more than anyone to encourage this was Canon James Beresford, youngest son of Thomas and Agnes. Born around 1455 Canon James commenced 4 years of study in canon law at St John's College, Cambridge in 1470 followed by 6 years elsewhere and also served as a tutor at the home of Sir John Leak at Sutton. He was Senior Deacon at Norwich in 1481, Vicar of Chesterfield in 1484, Rector of Matlock in 1497, Vicar of Wirksworth in 1504 then Canon and Prebendary at Lichfield Cathedral in 1507 where he was buried on the 13th July 1520. Apart from his remarkable clerical duties Canon James did a profitable deal in timber and the wealth he acquired was spent on charitable causes. Amongst other things he founded two fellowships and two scholarships in St John's College, Cambridge.
The Foundation Deed made on the 12th February 1520 between the Master, fellows and scholars of the College, the Dean and Chapter of Lichfield Cathedral and Canon James, covenanted that the said James for him and Lawrence his late brother, deceased, should have two fellows and two scholars in the said college forever, providing always that the said fellows and scholars should be of the name and kindred of the said James Beresford and secondarily of the parishes of Chesterfield, Wirksworth and Ashbourne in the county of Derby or Alstonefield in the county of Stafford. The said fellows and scholars were to have their chambers within the same college and to be discharged of cook and butlers wages together with meat and drink and every of them to have £3-6s-8d yearly for their subsidy. For funding of the necessary expense Canon James paid to the master, fellows and scholars £400 with which the master, fellows and scholars had purchased lands and tenements to the yearly value of £20 to the use of the the said master, fellows and scholars for that purpose.
Canon James' far-sighted benefaction to aspiring Beresford scholars served the family well for some 340 years until in 1860 new statutes for the college were introduced creating new scholarships out of a general fund and all those depending on name and kindred of founders except certain ones linked to particular schools ceased. Fellowships were also reformed in the same way.
Lord William Beresford VC
The Victoria Cross is the highest and most prestigious award for gallantry in the face of the enemy and was awarded to Lord William Beresford, the third son of the 4th Marquess of Waterford, during the Zulu Wars in South Africa.
At Ulundi on 3 July 1879, a reconnoitring party had been ambushed and was being attacked by a force of several thousand Zulus. A number of troopers had been killed or injured as they withdrew.
The horse of Sgt. Fitzmaurice of 24th Regiment fell and rolled on him. With the enemy closing in rapidly on both sides, Lord William turned his horse and ignoring the great risk to his own life went back to his assistance. With the help of Sergeant O'Toole, Frontier Light Force, and with the enemy now only 50 paces away, Captain Lord William managed to get the injured man onto his horse and eventually bring him to safety.
John Beresford – First Beresford Settler
At 0400 on Sunday 13 May 1787, the signal was give to weigh anchor. Eleven ships of the fleet under Captain Arthur Phillip RN left Portsmouth and set out on an arduous eight-month journey to a virtually unknown shore half a world away. Amongst the 1,300 men and women on board the eleven ships was John Beresford, a Marine Private 41st (Portsmouth) Company serving in HMS Prince of Wales and his wife Hannah.
The fleet arrived at Botany Bay on 18-20 January 1788, but Capt Phillips was not satisfied with this site and landed instead at Port Jackson (Sydney Harbour).
John was discharged from the Marines in October 1791 and the family decided to settle on Norfolk Island, far out in the Pacific (2hrs 30 minutes flying time today). By August 1804 he had five children and had developed a farm of 140 acres. He was one of the most successful landowners on the island.
In 1804 it was decided to evacuate the Norfolk Island settlement to a new land, recently discovered by Matthew Flinders called Van Dieman's Land (nowTasmania). John and his family were moved to Hobart, where he lived for another 13 years, dying on 28th September 1821, aged 68. He left his widow Hannah, five children and 16 grandchildren.
What a momentous and courageous decision John and Hannah had to make in deciding to leave the safety of Staffordshire to brave the long and arduous voyage around the world to an unknown land and an uncertain future. What amazing experiences they must have had in pioneering a new life, struggling and surviving through their own labours and bringing up a family. We have read accounts of the exploits of famous Beresfords, but Marine Private John Beresford's life surely ranks amongst the best of them.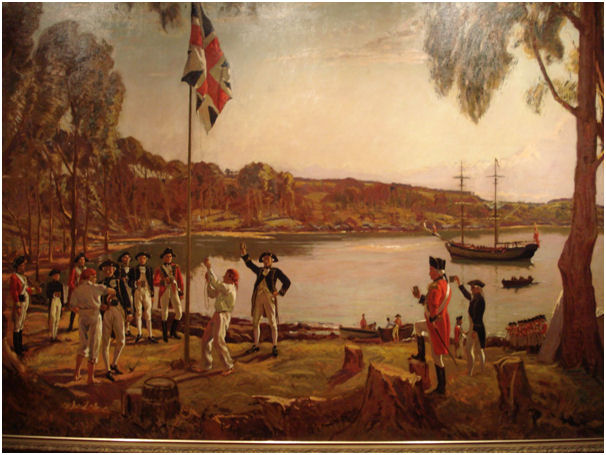 'The Founding of Australia' Jan 26, 1788. HM Brig Supply in the background.
(picture reproduced by kind permission of the Mitchell Library, State Library of NSW)
Help to preserve YOUR family heritage for future generations by joining us NOW