The Beresford Bear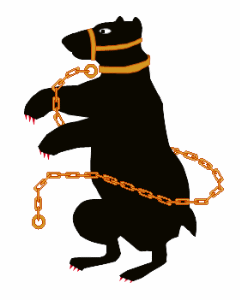 Coats of Arms are not granted to a family, but only to an individual, so there is no standard 'family crest'. A person's coat of arms is drawn up by the College of Arms in London and its design is governed by strict heraldic rules, as described below.
The Beresford Bear is one of the features appearing in the coat of arms of Thomas Beresford (c.1425-75) shown on his tomb and in stained glass windows in St Edmunds Church, in Fenny Bentley, Derbyshire.This bear also appears In parts of the coats of arms of his descendants.
The correct technical description of this Beresford Bear in heraldry is:- 'Argent a bear Salient Sable armed gules, muzzled and chained Or'. What does this mean? 'Argent' means the figure is on a white or silver background. ''Salient' means it is standing on its hind legs in an aggressive posture. 'Sable' means black. 'Armed Gules' refers to its claws being extended and coloured red. 'Muzzled and chained Or' means that its muzzle collar and chain is in gold.
The bear has been adopted by a number of Beresford Groups as our common symbol. It is reproduced here so that you may copy it in its correct form and use it to promote the Beresford family worldwide. For example you could have it printed on a tee-shirt, embroidered on the pocket of a sports shirt, added to an e-mail signature or as a sticker on a vehicle or boat. If you have devised some other imaginative way of promoting our Beresford Bear, to make contact with more members of the Beresford family, do let us know, so we can tell others.